Outdoor Birthday Party Ideas
You have decided to celebrate your birthday or the name day of someone close or dear in nature. Fresh air, new experiences – all this is great, but you still need to think through a lot of little things so that your holiday is a success.
How to celebrate a birthday in nature?
Scenario birthday in nature
How not to get bored at a birthday party in nature? Ideas, contests
What mobile birthday contests in nature can be held?
Menu for a birthday in nature
Drinks suitable for nature
How to celebrate a birthday in nature?
To begin with, it is necessary to provide everyone with chairs, albeit improvised, for example, in the form of logs or stumps, it is not so simple.
What to stock up on:
In the woods or on the beach, you always need napkins and garbage bags. Stock up on them so you don't have to save. You need to take plain clean water, five liters. It is useful for washing hands. Take a tray so as not to put kebab skewers on the ground. And of course matches, a knife and coals.
How to entertain guests:
In any holiday, it is very important not to let guests overeat. This will lead to fatigue and a sleepy mood.
There may also be problems with lighting a fire. After all, what is a holiday in nature without a barbecue or at least sausages strung on sticks and smoked over a fire? It is often forbidden to make fires in parks and forests. This is understandable. Fires in our forests happen almost every year.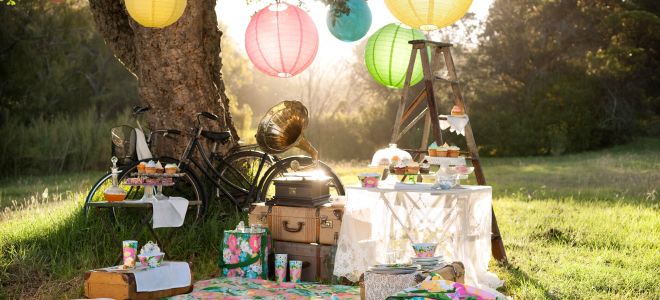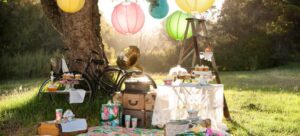 If you still decide to celebrate your birthday in this way, do not forget to remove all the garbage with you. Especially one that cannot be recycled naturally. The sight of a forest clearing littered with plastic bottles and plastic bags is very upsetting. Remember – "Take care of nature – your mother!"? This slogan has not been canceled!
The best option for going out into nature in order to celebrate a birthday is a trip to the country house or country house.  Here, conveniences are at hand. After all, even at the simplest dacha there is already water, and some furniture, electricity. With the choice of a place for a fire will not be a problem. If you do not have your own cottage yet, you can rent a house.
For those who do not like to just eat, drink and celebrate something, I offer the following birthday ideas in nature.
play paintball (airsoft or any other kind of "war"). A well-organized game will make you run and think about how to defeat your opponent.
visit the rope Norwegian park. An unforgettable experience for guests is guaranteed!
You can get a lot of impressions from participating in an original photo shoot, for example, dressing up as cowboys, Indians and other mummers
good entertainment is a trip to some animals, for example, to an ostrich farm.
For those who are on a tight budget and are not ready to pay for entertainment, we can recall the good old birthday games in nature:
bouncers,
volleyball,
various team competitions such as running in bags and jumping on one leg.
Celebrate your birthday in nature cheerfully and actively, and then this day will become an unforgettable holiday!
Scenario birthday in nature
If you decide to spend your birthday in nature, and any other holiday, a couple of tips will come in handy.
Let's start with congratulations.  A gift can be presented in an original way.  It is necessary to wrap all the good in a bag or paper and put it in the sand under some kind of umbrella or bench, you can hang it on a Christmas tree. Basically, it would be hard to find. After that, you need to make a cardboard treasure map and cut it into pieces and lay it out at the place of celebration. The task of the birthday boy and his guests is to draw up a map and find gifts on it. Such a fun start will help lift your spirits.
When the gifts are presented, you can start  cooking barbecue and a feast . Get water and a tray in advance so that you don't climb the bags with dirty hands later. Identify the trash can and begin to relax yourself.
When you see that everyone has had a bite to eat, pick up the guests from the fifth point and make them do something.
For example, you can  play the most cheerful and active guest:  Invite him to play the game "sand mountains". Tell him to lie down on his stomach and remember how many sacks of sand you put on his back. Constantly say different numbers to bring him down. When the mountain reaches an impressive size, pull back his swimming trunks and move a pile of sand there. Usually after that, with screams and swimming trunks full of sand, he will chase after his friend who played him. In most cases, this amuses all the guests, including the one played.
You can sit down at the table again. Come up with some more entertainment and competitions and when possible, give people the opportunity to move around.
We wish you happy holidays. We hope this scenario will help you have a fun birthday.
How not to get bored at a birthday party in nature? Ideas, contests
Having decided to celebrate a birthday in nature, be sure to think in advance not only of the holiday menu, but also how to diversify such an event so that it does not turn into banal gatherings. Birthday contests in nature will help you with this.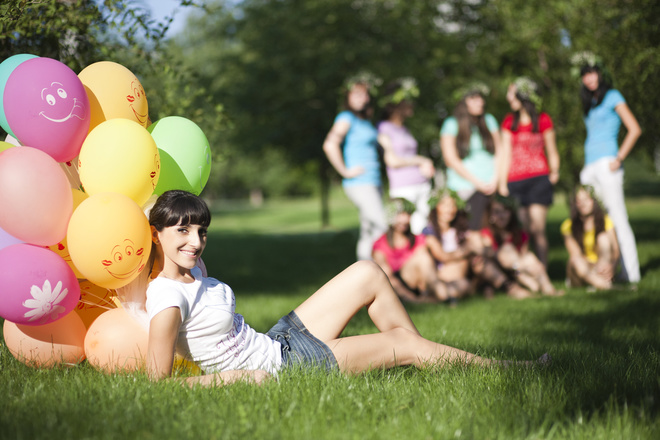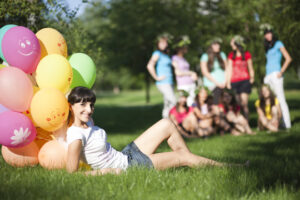 In our opinion, priority should be given to  mobile competitions . Still, the more actively a person moves, being in the fresh air, the better he feels. Here, the main thing is not to overdo it. Especially for those who spend most of their lives in the office. Give the muscles a load – the next day you will move with difficulty. This accumulated lactic acid in the body will remind you of itself.
So, let's imagine that it's summer outside. There is no sweltering heat yet, and the air is clean, transparent and filled with lilac aromas. To  arrange competitions in nature , you should prepare for them in advance. After all, for their successful implementation, you may need props!
The first version of the competition is  different types of racing . To do this, you need to split into two teams and choose a leader. The task of the latter is not as simple as it might seem at first glance.
What the host does:
He gives the command "On the start!" and monitors its implementation.
Controls compliance with the rules during the competition.
And, of course, it captures the moment the participants cross the finish line.
What mobile birthday contests in nature can be held?
Arrange the usual running in bags . True, for such a run it is worth finding bulky canvas bags, which is currently not too easy. Perhaps only children will be able to compete in the synthetic bags that are familiar to these times.
If you don't want to look for bags,  buy balloons .
Participants pinch the ball between their legs.
The goal is to jump the intended route without releasing the ball.
For those who consider such a task simple, it is possible to allow a collision of opponents on the way back. The probability of maintaining equilibrium in this case is reduced. It is important that the participants have approximately the same weight categories.
Did you find a couple of skipping ropes in the house?  We jump the planned route through the rope. Here you can come up with many options for jumping – on the right foot, on the left foot, on two legs (like a bunny), back to front.
You don't feel like preparing for competitions at all, but you really want to participate in them? Use improvised materials. For example,  sticks found in a nearby forest can be clamped between the legs . The task is the same as in previous competitions – to go through the planned route without dropping the stick. If you add a rule to this fun that allows you to pass the wand to another participant without the help of hands, then the fountain of fun is guaranteed!
The next variant of mobile competitions is scammers.
Well suited for gatherings in the forest, where there are many cones.
You can split into two teams, or you can arrange individual "shooting" with cones into a tree.
For example, everyone gets 10 cones.
Whoever scores the most number of times with an accurate hit on the target is declared the winner.
If there are several winners, then you can continue the competition between them.
Someone accidentally had  a soccer ball taken out into nature?  A wonderful occasion to arrange funny football.
Participants are divided into two teams.
In each team, pairs are formed that stand sideways to each other, and then they are tied so that the right leg of one will be pressed against the left leg of the other.
Now you need to score the ball into the opponents' goal!
This is just  a small part of the birthday contests in nature . They are not that hard to organize. The main thing is that the company is selected cheerful!
Menu for a birthday in nature
After a barbecue in nature, you don't want anything anymore and it rarely comes to desserts. Although, if children go to nature, then it is unlikely that they will be able to save on sweets.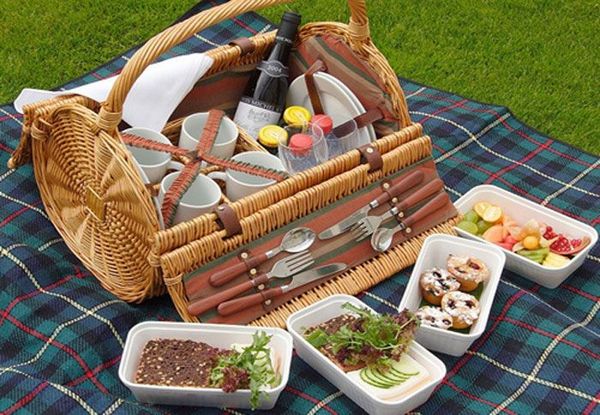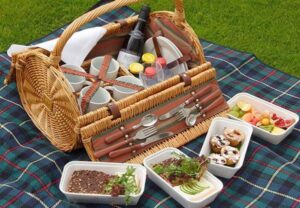 Drinks suitable for nature
The choice of drinks is determined depending on the time of year and the composition of the guests.
In the cold season, you want to warm up. Therefore, the degree of alcohol should be sufficient to compensate for the air temperature. And for a non-alcoholic holiday, you should plan hot tea.
Naturally, in the heat, completely different priorities. Demand for cold beer and dry wines is on the rise. Chilled juices and lemonades diverge with a bang.
For children, the amount of sugary soft drinks should be twice as much as for the same size group of adults.
Salads
You can do without salads in nature. But there is a danger that guests will starve while waiting for the barbecue to cook. Therefore, it is still worth taking a couple of light salads with you.
Fresh vegetables
Now fresh cucumbers and tomatoes can be found almost at any time of the year. Yes, these products are tastier in season. In my opinion, cucumbers, even in winter, are quite edible. Therefore, they should be on the menu for a birthday in nature, whenever it takes place.
But it is sometimes wiser to refuse tomatoes. Often, in early spring, they have no taste or aroma at all. Replace them with radishes, you won't regret it!
And don't forget the greens! Especially about green onions. It goes very well with barbecue, and just as a snack in nature it has a special appeal.
Bread
Now many people limit themselves to the use of bread. But in the fresh air, appetite increases even for those who eat very little in ordinary life. And if you offer guests fresh pita bread instead of bread, then they will surely not resist your offer.
Lavash is of different types. Pita bread is ideally combined with shish kebab. I don't know what it's called correctly. But I think you can guess what I'm talking about. The main thing is that these cakes are fresh. Then they have a unique flavor. And how cool it is to crunch with a fried crust of pita bread!
Sauces
When planning a menu for a birthday in nature, do not forget to bring sauces with you. It can be various ketchups and adjikas, both home-made and store-bought. It is important to choose something not too spicy here, because not everyone is a fan of sharp tastes.
There are those who prefer to eat barbecue with mayonnaise. So, take this product with you to nature.